CIBIL
CIBIL Meaning
CIBIL is the former name of the credit information company that is presently known as TransUnion CIBIL. The credit bureau is a part of an American group based in Chicago, TransUnion.
CIBIL was established in 2000. Shortly after implementing commercial credit bureau operations, CIBIL scores were made available to individuals in 2011. TransUnion in 2016 acquired an 82 percent stake in CIBIL. Some of the competitors to CIBIL are CRIF High Mark, Equifax, and Experian.
TransUnion CIBIL's key area of business operation is aggregating credit information of individuals and MSME groups to assess the risk of serviceability of debt. The CIBIL score published by the company determines the creditworthiness of the consumer. The banks use the credit information report to perform lending decisions.
CIBIL offers Credit scores, Credit Information Report (CIR), and Credit Report for companies. Lenders read credit scores in conjunction with CIR, which provides credit summary, personal information about the consumer such as contact and employment details, and loan account information.
Product offerings by CIBIL
Credit score
A credit score is a three-digit numerical figure that indicates a person's creditworthiness. The creditworthiness scales from 300 to 900, with 300 representing the lowest creditworthiness and 900 the greatest.
Credit report
The credit information that CIBIL gathers from numerous financial institutions is included in the credit report. This thorough report covers details about a person's borrowing and repayment history, including any defaults and delays.
The credit report for companies
Information regarding a company's credit history can be found in its credit report. The many sections of a business credit report discuss possible lenders, current credit that the business has, any litigation that is still unresolved, and the outstanding balance.
CIBIL Full Form
CIBIL stands for Credit Information Bureau (India) Limited.
CIBIL Score Meaning
CIBIL score is a 3-digit aggregate of a consumer's past purchasing history, loan accounts, credit card usage, payment dues outstanding days, all of which combine to form a comprehensive credit profile of the consumer.
Banks and financial institutions regularly share the input data with CIBIL, which is used to analyze the borrowing and repayment trends of the consumer.
The underlying assumption in the computation of a CIBIL score is that past actions of a consumer will carry forward to the future. Therefore, a consumer is expected to maintain their credit behavior.
CIBIL Score Range
What is a good CIBIL score?
CIBIL score ranges from 300 to 900. The higher the CIBIL score, the higher the creditworthiness of the consumer. Therefore, the closer the CIBIL score is to 900, the higher the chances of getting an application approved for loans.
Typically, most of the loans are disbursed to a consumer with a score of 750 or above.
How CIBIL Score is calculated?
Factors affecting the CIBIL score are as follows:
Defaults and Delinquencies: Defaulting on loan payments negatively impact the score. Therefore, the score incorporates the payment history by assessing the accounts that are past due date and how many days have passed since the due date.
Credit Utilization: Consumers generally do not exhaust their line of credit but use a certain portion of it. Consumers with a trend of high utilization of credit imply a mounting debt burden, which negatively impacts the score.
Balance of Credit: Loans can either be secured or unsecured. A consumer must strike a healthy balance between the two.
The TransUnion CIBIL score is a weighted measure of the following factors: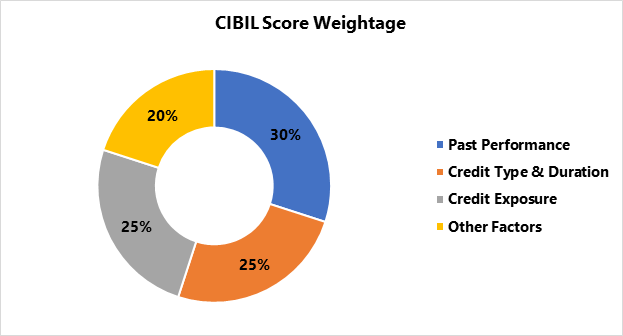 Other factors include factors such as credit utilization and recent credit usage pattern.
How to improve the CIBIL score?
Few practices to keep your CIBIL score under check:
Late payments weigh negatively on your CIBIL scores, so timely payment of dues is a habit of utmost significance.
Manage your credit properly by keeping your credit utilization low. Use credit only when the situation is pressing.
Do not make multiple inquiries seeking a loan, apply for new loans in a controlled manner.
Late payments on jointly-owned accounts also impact negatively, so ensure that your score is not adversely affected due to someone else's negligence
Review your credit score and credit report regularly. A consumer can request correction of the credit score in case of discrepancies. To contest the scores, a dispute can be filed on the CIBIL website.
It is important to have a favorable CIBIL score. CIBIL scores not only help the consumer avail of a loan but also negotiate favorable terms of the loan.
What are the benefits of a CIBIL account?
CIBIL scores are available to the members after subscribing to CIBIL subscription plans. Depending on the plan selected, a user is entitled to:
Unlimited access to CIBIL score and reports
Instant alerts on any modification and revision of CIBIL score
Score simulator, which lets the user understand the impact on the score by assuming a specific scenario
How can I check my CIBILscore for free?
TransUnion CIBIL lets a user avail of a free credit score once every year. To avail further benefits, a consumer must subscribe to their plans.
To get your free credit score through third-party sites, PAN card number and various personal details have to be filled out in the application form:
SBI free credit score
Bajaj Finserv free credit score
Paisabazaar free credit score
How can I get my CIBIL ID and password?
One can create an account on the CIBIL portal through this link – https://myscore.cibil.com/CreditView/enrollShort.page?enterprise=CIBIL&offer=FACRAA and generate a CIBIL ID and Password.
CIBIL Customer Care
The CIBIL consumer helpline number is available Monday through Friday (10 AM – 6 PM) at +91 – 22 – 6140 4300. A consumer can also fill a query online with CIBIL.