It's a known fact that market sentiments are highly sensitive and even an inch of negative factors can shiver it. But when its a combination of
1. US-China tensions over Taiwan
2. Weakening demands under inflation pressures, and
3. Looming possibility of recession
Markets are bound to collapse so did they.
Seeing the current rally everyone is wondering whether markets had bottomed out after looking past all the geo political and inflation woes.
But on Friday, Nifty remained rage bound before closing flat for the day and showed indecisiveness as it formed a doji pattern. Despite the trend likely to remain sideways, it's still a question if this is here to stay or just a rally in the bear market.
China wrath
US House Speaker Nancy Pelosi landed in Taiwan, the first time a US high-ranking official to do so in more than 2 decades! It was enough to heat up China, which held six live-fire military drills in the waters around Taiwan. Not just this, but the dragon also announced economic sanctions and import bans on the leading chip manufacturer of the world. Why so? Coz China has long claimed Taiwan to be part of its territory and won't tolerate even a slight interference from outside.
Tremors felt globally
Mr. Xi opposed the trip, threatening consequences for the US. Mind ya, US-China relations are at an all-time low. China being an ally of Russia calls for further doom for the US. As much as Biden may threaten, it can't ignore China, its key trading partner both in terms of exports and imports.
War season on?
We had barely started moving on from one war and another one seems to be brewing. Semiconductor woes may come haunting back for India as Taiwan's TSMC makes half of the world's computer chips. Another "Beech ka Bandar" situation for India huh!
FYI, we imported $2.4 bn worth of semiconductor devices from Taiwan in 2020. Yet, we had a crisis creating a backlog of 6.5 lakh units which continues since then. The only solace may be the Vedanta and Taiwan's Foxconn collab to set up a $20 billion semiconductor plant, operational by 2024. Investors by the way had barely begun their party preps!
Meanwhile, Taiwan be like: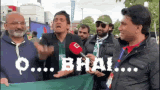 What's in the name?
Zomato is in the news again but not for its dipping stock price (at least for now) but rather for its new Naam Karan to 'Eternal'.
Wait, there's more.
Along with this, it's transitioning from being only a food delivery startup to acquiring grocery delivery startup 'Blinkit' and now kitchen ingredient supplier Hyperpure. As a consequence of adopting multiple businesses, it's looking forward to having four CEOs managing a particular business line yet working together.
Uber dropped Zomato
One of the initial investors of Zomato, Uber Technologies sold its entire 7.78 percent stake in Zomato in a bulk deal on BSE while ICICI Prudential Life Insurance and Fidelity grabbed the deal. First anchors getting rid of Zomato and now other funds, still they found changing of name important, good.
WFH? No, WFA
Working in PJs was the only good thing about the Covid and that ended for all of soon but not for Spotify employees.
The audio streaming giant Spotify announced its Work From Anywhere policy in February 2021, which after a year or so later decreased the turnover drastically.
While many mega corporations experienced giant employee turnovers during the pandemic and post-pandemic period, Spotify on the other hand improved its diverse representation by providing flexible work conditions.
A changing convention?
Spotify challenges the conventional wisdom of strict working hours by allowing its employees to let them work from anywhere. It's wisely observing the lessons of the pandemic and adopting its goodness by generating new ways of working. Spotify doesn't really care where the employee works from as far as it gets its job done. Don't you think other companies should also consider this scheme? Of course for the decreased employee turnover only.
Spotify Employees be like:
RBI jumping on the bandwagon
The Six Member Monetary Policy Committee(MPC) headed by Shaktikanta Das announced a hike in the key lending rate and the repo rate by 50 basis points. With such a hike, the repo rate is now increased to 5.4 percent. These RBI hikes follow the same 50 basis point hike by the Bank of England. This hike is the third one in a row that has been announced to tame the inflationary pressure as suggested by RBI.
No offence regarding hikes but RBI to other Central Banks:
No privacy ?
The government was already late at realizing the importance of privacy of data despite having a trillion-dollar economy. And now it has withdrawn that bill too
Reading between the lines:
The Personal Data Protection (PDP) Bill which was introduced on December 11, 2019, in Loksabha is all set to get withdrawn by the government. The bill was proposed with several restrictions on the use of personal data without the citizen's consent and its repercussions which was highly criticized by the opposition.
The reason for withdrawal?
The ruling bill has been withdrawn to propose an updated bill. Minister of State for IT Mr. Rajeev Chandrashekhar reported that the government was working on a comprehensive legal framework considering 81 amendments and 12 recommendations.
The replaced bill is likely to include standard laws regarding digital privacy laws for contemporary digital challenges. The central idea behind updating this bill was to remove the discrepancies and relevant issues about Data Protection to strengthen the Digital Economy to align with the Prime Minister's vision of 'India Techade'.
What else made the news?
Aim High: PayTm to hit $1 bn revenue by FY 23 end says CEO Vijay Shekhar Sharma yet, working on to break even.
Miss: Chinese e-commerce giant Alibaba reported flat revenue growth in Q2 '22 for the first time in history, blaming Covid for lockdown business hits.
Reigning queen: O. P. Jindal group's Savitri Jindal replaces China's Yang Huiyan as Asia's richest woman with an $11.3 billion net worth backed by Jindal Group.
Stake sale: Yes Bank to sell 10% stake to Private equity investors Carlyle Group and Advent International for Rs. 8900 Cr.
Upper circuit: Subex stock price zoomed 20% after partnering with Jio Platforms to enhance the 5G product line
Meme of the week
International politics summarised
What Tavaga Tribe has been up to this week?
Reading: Six Thinking Hats – By Edward de Bono Having problems is similar but we all have different ways of dealing with it. This book teaches on how to investigate a problem from a variety of perspectives to handle it wisely. Have a read if you too feel stuck at times and want a solution.
Listening: Podcast- Stuff you should know If you also want an explanation for every bizarre thing, this is for you. Plug onto this podcast to have insights on most random but important topics.
Key insights from our Research Team
Hope you have a safe and relaxed weekend
Cheers,
Ruchi Mehta
Business Analyst
Tavaga