IPO Lock-ins: A Time Ticking Bomb? 
What's the issue?
Call it a promoter's escape or investors fate, Zomato's share fell to its all-time low of Rs. 41.2 on Tuesday as the mandatory lock-in period of pre-Initial Public Offering shareholders ended. This recorded a 14% slip from its last close which doesn't seem right at such a trajectory.
Did investors see this coming?
Probably yes. Despite receiving a backlash on its IPO going live due to a questionable business model, Zomato opened at a premium to the offer price of Rs. 76 and went all up to touch 169. But since then, it's tripled down and down, losing almost three-fourths of its value. Zomato's financial troubles have been mounting, made worse after Blinkit acquisition which is another loss making proposition. But these dramatic exit of anchors isn't the scene with only Zomato but every other loss-making startup entering the street has been following the same strategy.
Are Anchors to be blamed?
Anchor investors are mainly known for being long-term value investors following the path of research and value-investing. But the recent scenes ridicule this fact. Despite of investing in a loss-making unit, they are expected to hold it for a while until the numbers turn and show patience in a business but not anymore. But now, it all seems like a PR game to hype a startup initially to soar its listings and hold only till the lock-in, not a day or two more before exiting. They're nothing but a double-edged sword causing high price swings in IPO stocks like Nykka, Paytm, LIC, and Zomato, to name a few.
Bottom Line:
US in a recession: Do we care?
What happened: US GDP shrank by 0.9% in 2Q, following a 1.6% drop in Q1, making it effectively in a recession as per definition, right? 2 straight quarters of declining GDP has often been a rule of thumb.
Why US doesnt care: US folks, the National Bureau of Economic Research (NBER), follow a different rule. Basically if US undergoes a "significant decline" in economic activity, deep enough plus broad enough, and will last for more than a few months then its a recession.
So in simple terms, apart from GDP, other factors considered are job growth, consumer spending, and industrial activity. And right now, they are all giving mixed signals.
Inflation is up causing household consumption growth at a paltry 1% in Q2, housing market in a downturn too. BUT, job market is robust. unemployment at a low of 3.6%.
Bottom line: The vibes are not great in US for sure, which the Americans very well understand. But a distant hint from moderate fed rate hike that inflation has peaked was enough for markets and people to rejoice!
The not so great Indian E-commerce festival
Post-pandemic Ecommerce sales were even meager than pandemic consumption. Though the overall consumption came down, the dependency on Ecommerce made it thrive during tough covid times, so much so that it managed to generate positive growth amidst slow down economy.
The alternate growth
Recent estimates from a market research firm portray a 20% annual growth in e-commerce daily shipments in the ongoing financial year. While this might be exciting but know that it's on the negative part as compared to the last two financial years. Because, although going through the toughest times of the decade, e-commerce managed to grow at a robust 25-30% annually during the last two years.
All thanks to the shopper migration from physical stores to online platforms which can contribute to 25-30% growth of such an E-commerce industry. It's quite an exception to know that amidst the lockdown-induced roadblocks and universal backlash, Ecommerce not only managed to survive but witnessed growth. But soon the new normal got stale and the dependency again shifted to the good old consumption habits.
So, no good times for Ecommerce players this year?
Inflation and an uncertain economy have left very little for the common man to spend for. And this is true just not only on paper but in real life too as not even hefty discounts are attracting the buyers anymore. Still, the not-so-near festive season is the only savior for the e-commerce giants to be back in the business. We could see some raining discounts coming soon.
Another lifeline for BSNL 
BSNL is to be pumped Rs. 1.64 lakh crores yet again to revive after its market share crippled to 10%. Such revival was necessary to continue rural wireline operations, viability gap funding, and debt structuring. Clearly govt. wants a hold in telecom space to serve its rural ambitions. But in current times when 5G auction is underway, BSNL does not even offer 4G in all areas! Will such aids help these State-owned institutions?
Let's find out
This isn't the first time BSNL is backed. Later in 2019 too, it was funded nearly Rs. 7000 crores by the government for merging two sunken ships; BSNL and MTNL. Which to everyone's surprise turned out to be life-changing for BSNL as it made an operating profit of Rs. 1000 crore post the help. Such numbers made the authorities affirmative about BSNL's potential and were helped again by the government now. Meanwhile, the telecom minister also added that as the first package made BSNL a stable entity, this revival package will make it a viable entity. Will it be so? That's a matter of time.
BSNL to Indian Government:
China's Real estate partaking unreal miseries 
Chinese developers selling houses in exchange for watermelon keeping an upper limit of 5000 kilograms is what depicts the deflated Chinese real estate scene. While it was ridiculed on the basis that it was to promote local watermelon sales, it also unveils the recent real estate reality of China.
Real estate rallying all-time low.
The population major of the world is going through a real estate deflation wherein the real estate properties, houses to be specific are deflating in value as low as 30%. These statistics even surpassed the all-time low of 2008 when it was negative by 20%. The reason? Huge debts compelling the buyers to suspend their mortgage payments.
Until now, developers would get payments before construction which would help in funding completion. But now since they're struggling to get advance financing, it's halting the projects for further construction. As an escape, they've to rely on debt sources upon which the market isn't showing confidence for recovery.
Bottom line:
All of this distress is affecting property sales which will make the developers suffer adversely and delay the real estate market recovery. But on another note, social distress can even worsen the condition if people didn't get their apartments for which they paid for on time.
SpiceJet left to half 
DGCA clipped SpiceJet's wings into half until it proved that it has sufficient, technical support and financial resource to safely and efficiently undertake such enhanced capacity.
Where did SpiceJet Lagged?
The penalty was issued after the aviation watchdog DGCA was aware of the fact that SpiceJet experienced at least eight technical malfunctions since June 19. After such concerns, DGCA initiated spot checks on SpiceJet planes very frequently.
Other signs of carelessness were observed mid-air when a freighter aircraft was given an emergency landing at Kolkata as the weather radar was not working. Not only this, a Delhi-Dubai flight was landed in Karachi due to a malfunctioning fuel indicator. Amidst such negligence, the DGCA issued a show cause notice to the airlines which it replied diplomatically.
How'd the airline respond?
In its defense, SpiceJet confirmed to its passengers that there will be absolutely no impact on their flight services because of the order. It also stated that since it's a lean travel season and SpiceJet has already rescheduled its flight operations, there will be no impact on flight operations, still, it will act as per the directions of the regulator.
SpiceJet to DGCA: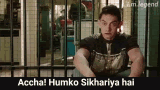 What else made the news?
Raining Bonus: Bajaj Finserv announced a stock split and 1:1 bonus issue post-1Q22 results
Indian Startup Scene: India nurtured 73k startups this year as compared to 471 in the last 6 years!
Rate hike: Fed raised interest rate by 75 bps to tackle four-decade high inflation
Edelweiss will now run roads: L&T sold 8 roads for Rs. 7000 crores to Edelweiss. NHAI and SEBI approval awaited
Cricket fever down: PayTM is in talks to give away IPL sponsorship to Mastercard, Unacademy and Upstox may follow suit amidst funding slowdown
Attention Taxpayers: Rush to your CAs as the Tax filing due date approaches and not going to extend this time
Meme of the week
CAs of India right now
What Tavaga Tribe has been up to this week?
Reading: The Power of your Subconscious mind by Joseph Murphy A detailed discussion on how our subconscious mind works and how it can highly affect our thinking patterns. Some practical debates that'll make you introspect.
Listening: Podcast- The Ramsey Show A light tone discussion on where the economy is headed and how to positively leverage it for your own good. A fun weekend escape to get better with your financials and money habits.
Key insights from our Research Team
Hope you have a relaxing weekend
Cheers,
Ruchi Mehta
Business Analyst
Tavag